Robert S. Peckar Speaks at the 29th National Congress of Civil Engineering in Mexico City, Mexico
Published Date:
May 2, 2018
Robert S. Peckar, Founding Partner in the firm's New York office, spoke at the 29th National Civil Engineering Congress, March 1 – 8, 2018, at the Word Trade Center in Mexico City, Mexico.  Mr. Peckar was the keynote speaker during a plenary session entitled "Ethics and Transparency."  His topic, "Challenging Corruption in Construction – You Can Make a Difference" took place on Monday, March 5, 2018.
In its 29th year, the objective of the congress is to present and discuss proposals to transform Mexican civil engineering, with emphasis on the planning of infrastructure, the ethics of professional practice and the innovation of the profession. Also, publicize the advances in the different disciplines of civil engineering. Attendees included professionals from the public, private and social sectors, teachers, researchers and students of civil engineering and related careers, as well as companies and the general public interested in infrastructure.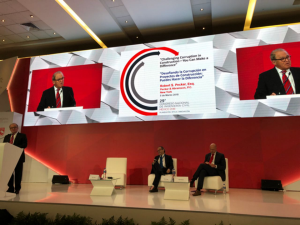 Back to P&A News