Tracey L. Williams is senior counsel in Peckar & Abramson's Dallas office. Tracey has more than sixteen years of litigation experience, including ten years in construction litigation. She currently focuses her practice on construction law and litigation.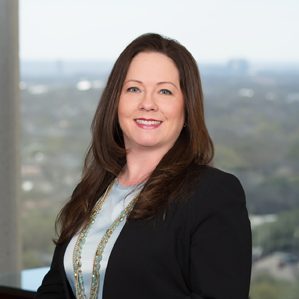 Tracey L. Williams
Senior Counsel
Dallas, TX
P +1 214.523.5100
F +1 214.521.4601
P 214.523.5100
F 214.521.4601
"At P&A, we understand the full gamut of issues, processes and nuances at play in the construction industry."
Bio
Tracey is a skilled litigator and has successfully represented contractors, developers, owners and subcontractors in Texas and Oklahoma during all phases of the construction process, and thereafter. She assists clients in managing project risk through effective contractual risk allocation and counsels clients in construction matters involving contract disputes, mechanic's and materialman's liens, bond claims, construction defect, and other construction-related claims. In addition to construction law, Tracey has extensive experience in creditor's rights and commercial collections.
Tracey received her Bachelor of Business Administration from the University of Texas at Arlington, where she graduated cum laude. She earned her law degree from Texas Wesleyan University School of Law, now known as the Texas A&M University School of Law, where she served as managing editor of Law Review.
Tracey is admitted to practice law in all Texas and Oklahoma state courts, as well as the United States District Courts for the Northern, Eastern, Western and Southern Districts of Texas.
Highlights
Admissions
• State of Texas
• State of Oklahoma
• United States District Court for the Northern District of Texas
• United States District Court for the Eastern District of Texas
• United States District Court for the Western District of Texas
• United States District Court for the Southern District of Texas
Memberships
• State Bar of Texas (Construction Law Section)
• Oklahoma Bar Association
• Dallas Bar Association (Construction Law Section, 2018 Chair)
• American Bar Association (Forum on Construction Law)
• TEXO Association
• Association of Professional Women in Construction
• National Association of Women in Construction (Dallas Chapter, 2019 WIC Week Committee, 2019 PR/Marketing Committee)
Education & Courses
• University of Texas at Arlington, B.B.A., cum laude
• Texas Wesleyan University School of Law, J.D
Publications & Presentations
• "Texas Mechanics Lien Law After HB 2237," Texas Bar's Advanced Real Estate Law Course, July 2022
• "Changes to the Texas Mechanic's Lien Statue," Dallas Bar Association - Real Property Law Section Seminar, July 2022
• "Construction Lien Waivers: Conditional vs. Unconditional Waivers, Retainage, Reservation of Rights," Strafford Webinar, April 2022
• "TXLEGE Update: How What Happened in Austin Impacts Your Business," P&A Webinar, June 2021
• The National Association of Women in Construction (NAWIC) Dallas's Industry Impact Panel, Webinar, June 2020
• "Texas Mechanic's Lien Law Update: New Law Brings a Little Relief for Subcontractors and a Lot of Relief for Design Professionals," P&A Client Alert, May 2021
• "What? You are Foreclosing? A Mechanic's Lien Nightmare!," Dallas Bar Association Headnotes, Volume 43, Number 1, January 2018
• "Workers' Compensation Insurance Can Save Your Ass—ets!," ConsensusDocs Construction Law Newsletter, Volume 3, Issue 4, August 2017
• "Joined at the Hip: The Nondelegation Doctrine and the Principle of Deference—The Struggle for Power Has the EPA Caught in the Middle," 7 Tex. Wesleyan L. Rev. 63 (2000)