Roger S. Markowitz has over 40 years of experience in construction and public contracting law, and has successfully represented heavy and highway contractors, engineers and owners in hundreds of disputes arising from major heavy and highway and other infrastructure construction projects.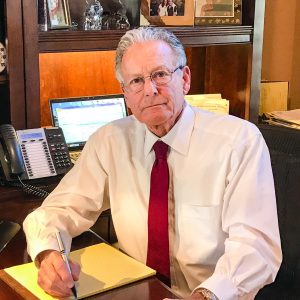 Roger S. Markowitz
Of Counsel
River Edge, NJ
P +1 201.343.3434
F +1 201.343.6306
P 201.343.3434
F 201.343.6306
"Companies contracting with federal, state and local governments must secure counsel that understands the minefield of rules, regulations, accounting issues, and ethics and compliance requirements that come with this territory."
Bio
He has represented some of the nation's leading heavy and highway contractors in prosecuting significant construction contract claims arising out of highway and bridge projects, subway projects, wastewater treatment plants, tunnel projects and light-rail infrastructure improvements. He also has defended his clients against claims by owners and subcontractors. Those claims have included claims against the New York City Transit Authority on the Second Avenue Subway Project; claims against federal and state transportation agencies involving highway, bridge and tunnel projects; claims against the Port Authority of New York and New Jersey involving the re-building of the World Trade Center and airport light rail systems at JFK Airport; and claims against the New York Metropolitan Transportation Agency and other regional transportation agencies involving major subway construction programs.
In addition, Roger has had significant dealings with local, state and federal highway departments, and with local, state and federal environmental agencies in resolving disputes on major projects administered by those agencies.
Roger has successfully handled several major American Arbitration Association (AAA) construction industry arbitrations, including some that involved construction projects located abroad in places such as Singapore and Sri Lanka. He has represented an owner of a major project in New York in successfully defeating a $15M contractor claim and recovering nearly $3M in delay damages caused by the contractor's defaults. He was involved in the representation of a major international engineering and construction firm which succeeded in recovering a substantial award in an AAA construction industry arbitration against an international pharmaceutical company. He has represented engineering, procurement and construction contractors on delay and extra work claims on several power plant projects; he successfully resolved a major claim against the City of New York involving construction of New York's third water tunnel; and he obtained an award in favor of a contractor for the full amount claimed against an owner in an AAA Construction Industry Arbitration, arising out of the construction of an addition to the Jackson Memorial Hospital in Miami, Florida.
Highlights
Admissions
• State of New York
• United States Court of Appeals for the Second Circuit
• United States District Court for the Southern District of New York
• United States District Court for the Eastern Districts of New York
• United States District Court for the Northern District of New York
Memberships
• Associated General Contractors of America
• American Bar Association and New York State Bar Association (Construction and Surety Law Division; Litigation and Public Contract Section and Forum on Construction Industry)
Education & Courses
• Bucknell University, B.A.
• New York University School of Law, J.D.
Awards & Recognitions
• Best Lawyers, 2013 - 2024
• ALM & Martindale-Hubbell "New York Top-Rated Lawyers", 2019 - 2020
• ALM & Martindale-Hubbell AV Preeminent Rated