Simrandeep (Simran) Singh Tiwana is senior counsel in Peckar & Abramson's Los Angeles office, where he focuses his practice on construction law, including drafting and negotiating construction contracts and construction litigation. Simran brings a unique perspective to P&A having had a decade long career as a licensed professional engineer engaged in the design and construction administration of several notable building and infrastructure projects.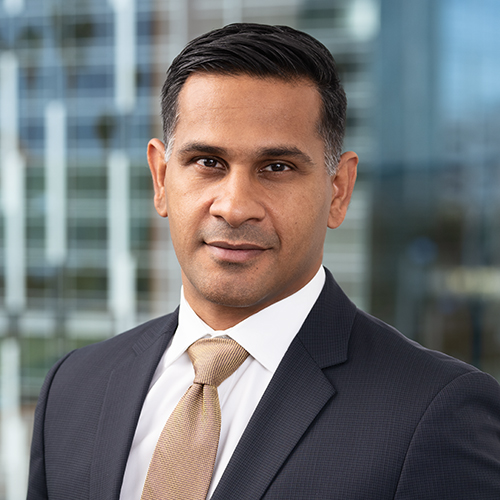 Simrandeep S. Tiwana
Senior Counsel
Los Angeles, CA
P +1 310.228.1075
F +1 310.228.1076
"Our unparalleled construction expertise allows us to successfully navigate complex construction transactions and makes us tenacious litigators. And armed with that, we commit ourselves to building and safeguarding our clients' businesses and to building a better world."
Bio
Simran focuses on complex multi-party construction disputes and high-dollar amount construction contracts.  His experience before joining P&A includes:
Representation of the developer of a 140-unit apartment building in Los Angeles in authoring and negotiating a Guaranteed Maximum Price Contract with the General Contractor for the Project.
Representation as Counsel of Record of a large contracting firm in a lawsuit alleging construction defects within a 400+ unit apartment building with $120+ million in claimed damages and over 50 defendant parties
Representation as Counsel of Record of a large contracting firm in a personal injury lawsuit which arose out of the construction of a mid-rise concrete tower in Los Angeles
Representation as Counsel of Record of an architectural design firm in a lawsuit involving a multi-family building in Los Angeles with $50+ million in claimed damages and over 30 defendant parties.
Simran graduated with a bachelor's degree in civil engineering in India in 2005, then relocated to California to practice as a structural design engineer. He is licensed as a Professional Engineer and holds a master's degree in civil engineering. As a structural design engineer, Simran has designed several complex structural systems and his past work includes design of multiple post-tensioned concrete structures, design and construction of multiple roadway bridges, design of multiple structures with CIDH piling, design of multiple concrete retrofit projects, multiple mid-rise concrete and steel buildings, design of wood framed retail centers, and designs of buildings for schools and hospitals. Simran has also performed seismic evaluations of several existing structures and has worked as a due diligence consultant evaluation seismic safety of potential purchase and sale targets for commercial developer clients.
Highlights
Admissions
• State of California
Memberships
• American Bar Association
• Los Angeles County Bar Association
• American Society of Civil Engineers
• Structural Engineers Association of California
Education & Courses
• Guru Nanak Dev Engineering College, Punjab, India, B. Tech., Civil Engineering
• California State University, Fresno, M.S., Civil Engineering
• Loyola Law School, J.D.
Publications & Presentations
• "Virtual Redesign of the Stanford Institute of Economic Policy Research Building Using Controlled Rocking as the Primary Lateral Load Resisting System with Modeling in SAP 2000," September 2013, SEAOC Convention 2013 (Speaker)
• "FRP Facial Panels for Segmental Retaining Walls," Sep 24 2008, ASCE Library (Author)
Languages
• Punjabi
• Hindi
• Urdu